So much love "Abundance", is a resin sculpted figure cast from artist Susan Lordi – Willow Tree, original carving and painted by hand.
A gift of Willow Tree communicates beyond words.
Product Details
SKU: 27181
14cm hand-painted resin figure
Standing figure in cream dress, holding large bouquet of pink roses in her arms
Packaging box includes enclosure card for gift-giving
Dust with soft cloth or soft brush. Avoid water or cleaning solvents
A gift to celebrate friendships, or for those who love flowers!
This figure is available with pink roses or yellow roses (click here).
About this Piece
"I think that a rose is one of the most beautiful natural objects that we can – carefully – hold in our hands. We enjoy the intoxicating scent, the silk-velvet touch, the perfect form. They unfold and give forth their fragrance; they're intimate and draw you in… So this piece could be a gift to a mother or friend or Valentine, or someone you're wishing well. Sometimes it's nice to give a gift to let someone know that they are a gift in your life. I wanted the bouquet to be overflowing – more than enough – to express abundant feelings for someone, or the abundant goodness a person shares with others." — Susan Lordi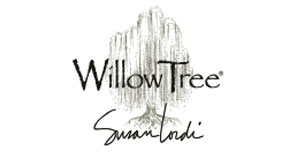 Susan Lordi's artistic process is rather intuitive; she "sketches" in clay as she conceives, sculpts and carves each piece, always with a focus on gesture that speaks to the universal. By stripping down the essence of emotion to pure form, she opens the interpretation of each piece to the giver and the receiver. This one-of-a-kind approach to product creation makes her pieces truly individual… her hand, and her unique perspective, is evident in each sculpture.