Forging a bond that lasts a lifetime "Brothers", is a resin sculpted figure cast from artist Susan Lordi – Willow Tree, original carving and painted by hand.
A gift of Willow Tree communicates beyond words.
This piece works well with other figures to create a Family Grouping.
Product Details
SKU: 26056
14cm hand-painted resin figure
Figure of two boys, younger leaning against the older
Packaging box includes enclosure card for gift-giving
Dust with soft cloth or soft brush. Avoid water or cleaning solvents 
A gift to reflect the friendship between siblings.
Child figures work well in Family Groupings.
Position two (or three or more) figures so that they appear to be interacting, turned toward one another, touching. Like families do.
About this Piece
This push-pull pose between two brothers may be very familiar to parents of boys; it reflects the relationships that develop in childhood, and endure through adulthood.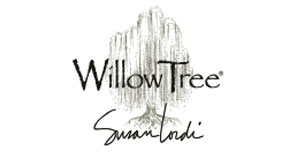 Susan Lordi's artistic process is rather intuitive; she "sketches" in clay as she conceives, sculpts and carves each piece, always with a focus on gesture that speaks to the universal. By stripping down the essence of emotion to pure form, she opens the interpretation of each piece to the giver and the receiver. This one-of-a-kind approach to product creation makes her pieces truly individual… her hand, and her unique perspective, is evident in each sculpture.