"Home" is a 21,5cm height resin sculpted figure cast from artist Susan Lordi – Willow Tree, original carving and painted by hand.
A gift of Willow Tree communicates beyond words.
This piece works well with other figures to create a Family Grouping.
Product Details
SKU: 26252
21,5cm height hand-painted resin figure
Figure of standing man and pregnant woman embracing. Woman in cream dress, man in cream shirt and blue jeans
Packaging box includes enclosure card for gift-giving
Dust with soft cloth or soft brush. Avoid water or cleaning solvents
A gift to celebrate new beginnings, new babies, new families… and the loving relationships that develop between parent and child.
About this Piece
"I wanted to capture the time in your life when there's a lot of excitement, happiness, yet a big unknown. This piece connects the concepts of Home and Family — you are creating your own family — your own home. There's been a shift in your life cycle. It's about establishing roots in a way that centers and grounds you as a couple. It can be scary, but also has you in awe. Together, you're creating a sense of place — building something — permanence and belonging. To each other and to the someone else that you haven't met yet, but that you already love. I wanted the title to have a hidden layer of discovery … I like the twist of taking a noun and using it as an adjective to explain a feeling one might have, but can't always verbally express." — Susan Lordi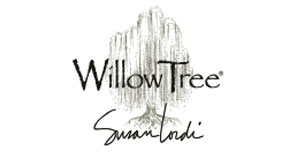 Susan Lordi's artistic process is rather intuitive; she "sketches" in clay as she conceives, sculpts and carves each piece, always with a focus on gesture that speaks to the universal. By stripping down the essence of emotion to pure form, she opens the interpretation of each piece to the giver and the receiver. This one-of-a-kind approach to product creation makes her pieces truly individual… her hand, and her unique perspective, is evident in each sculpture.