Wishing you sunny days of happiness "Good Cheer", is a resin sculpted figure cast from artist Susan Lordi – Willow Tree, original carving and painted by hand.
A gift of Willow Tree communicates beyond words.
Product Details
SKU: 27462
14cm hand-painted resin figure
Standing figure in cream dress, holding large bouquet of yellow roses in her arms
Packaging box includes enclosure card for gift-giving
Dust with soft cloth or soft brush. Avoid water or cleaning solvents
A gift to celebrate friendships, or for those who love flowers!
This figure is available with yellow roses or pink roses (click here).
About this Piece
We often offer wishes for much happiness to those we care for and about; friendly intentions given with joy and hopefulness. Good Cheer reflects a sentiment of positive enthusiasm with its big bouquet of sunny yellow roses—symbolizing friendship, optimism and well-being. It's the color of choice for friends who have achieved a goal, need a little lift or wholehearted acknowledgement, or for those who simply brighten our day!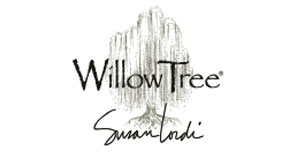 Susan Lordi's artistic process is rather intuitive; she "sketches" in clay as she conceives, sculpts and carves each piece, always with a focus on gesture that speaks to the universal. By stripping down the essence of emotion to pure form, she opens the interpretation of each piece to the giver and the receiver. This one-of-a-kind approach to product creation makes her pieces truly individual… her hand, and her unique perspective, is evident in each sculpture.